Equipment
"I constantly strives for sonic and visual perfection! Premiere lines of equipment from the most respected and trusted manufacturers in the world are what I bring out to each performance. When quality innovative equipment comes out, I acquire it. My clients take comfort in knowing that the sound and lighting for their event will be second to none!" DJ Eddie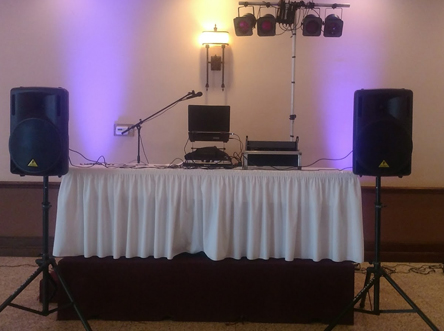 Current Rig For Most Events - Including Optional Uplights
List Of Equipment
Sound
1 QSC PLX-3002 (3,000 watt) Amp,
1 QSC USA-900 (900 watt) Amp (back-up),
2 Technics Turntables (when required),
1 Denon DN-2100F 'Dual-Well' CD Player (when required)
1 Stanton S700 'Dual-Well' CD Player
1 Denon DN-X800 Combination Digital/Analog Mixer
1 Rane MP-24 Mixer
1 Numark Mixer (back-up)
1 Numark Ipod Mixer (rental system only)
1 BBE Sound Processor,
6 '3-Way' GLI Model 1 Speakers (each featuring twin 15" Woofers and capable of handling 1,000 watts),
1 Cerwin-Vega LR36 Earthquake Subwoofer (large events only).
2 Audio-Centron stand-supported speakers (for smaller events and ceremonies).
2 Behringer Powered 15" Stand Supported Speakers
1 Shure Corded Mic,
1 Audio-Technica Wireless Mic,
1 Nady Wireless Mic,
1 Furman PL-8 Power Conditioner.
2 Digital Coax (Monster brand) Cables for Denon CD Player and Mixer (for true digital sound).
The Super Computer (2 space custom built Rackmount)
TOTALS: Up to 6000 Watts of Clean Sound from up to 8 Available Speakers and Amplifiers.
Available Lighting and Effects 
Professional 'dance floor lighting' creates excitement, energy, and even warmth! It provides an atmosphere conducive to dancing for halls that, otherwise, are basically designed to provide lighting for nothing more than dinner, cocktails, and meetings.
1 Martin Destroyer
1 Martin Voyager
2 Martin Starflashes (Cone and Triple Beam)
2 Chauvet Intimidators
1 ADJ UFO
1 Mirror Ball (retired from premium light show - but still available)
1 Giant Beacon (retired from premium light show - but still available)
1 ADJ Laser
2 ADJ Strobes
1 Vaporizer Fog Machines
2 Smaller Fog Machines (Chauvet & ADJ)
8 - 300 watt par cans with colored gels that keep your dance floor illuminated the whole evening with exciting chasing, audio-sync, and color wash effects (most wedding clients choose this system alone). Classy, effective, and not overbearing.  
All 'Effect Lights' are controlled by a Lightcraft 1200 Club Machine Control panel, 1 Lightcraft 1012 Control Panel (back-up), and Lightcraft Relay Packs.  
All 'Par Cans' are controlled by an NSI Control Panel, and SUNN Dimmer Packs.  
All lighting are supported on Ultimate Support stands with 4' crossbars up to 12' high, overlooking the dance floor...I don't use a truss, because trusses don't fit in all rooms. With separate stands, I can place lighting much more strategically, effectively, and as needed (our clients have complete decision over how much, or how little, lighting they desire).  
TOTALS: 23 Lights and Effects totaling over 6,000 Watts!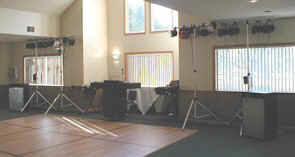 Full System with all lighting options.
Available as an option: 
Our own commercial tent/canopy (12x12) for outdoor events 
Generator for outdoor events 
Portable, 'Mini-System' for remote location Ceremonies 
Additional microphones and stands for 'sound reinforcement', corporate, and stage show events