Frequently Asked Questions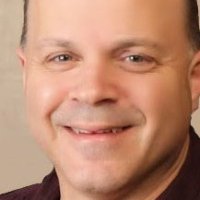 These are some of the most often asked questions
regarding DJ Eddie.
CHECK YOUR 2018 OR 2019 DATE HERE!
Q: Single-system operator... What does that mean?
A: "Quite simply... When you book HAPPY HOUR DJ SERVICE, you're booking me (DJ Eddie) and my 20+ years of experience in producing entertainment, and performing at special events. My success is based solely on MY OWN performance: Performance in finely tuning the details prior to the event, and performance of implementing those details at the event. It is dedication and service that cannot be matched by anyone, other than an experienced single-system operator."
Uniqueness!
Being a single-system operator means that I don't have to follow any 'set format' or training manual... Your unique thoughts and ideas can be a reality, as we discuss them in detail, prior to your special event!
Wedding Receptions?
Every performance is different from the last.
I work with some of the most sought-after, unique, and innovative event planners in the Metro Detroit area!
If you want different ideas to add spice, or variation from the 'typical' wedding reception, I can give you some new ideas to consider.
You want your guests to dance?
You want your guests to have a great time?
You want to host a unique event?
You want to host a successful event?
DJ Eddie will make it happen!
---
Q: You're one performer... Are you the right dj for EVERY kind of event?
A: No.
What I do, I do well. I don't need to pretend or mislead anyone into believing that, no matter what type of dj they're looking for, I'm the guy. Again, I don't have multiple systems that I need to book... Only me. If I don't think that I'm the right dj for your event, based on your criteria, I'll tell you. In most instances, I'll even recommend someone more appropriate.
Right now, without going any further, I can tell you that if any of the following three paragraphs contain qualities that you are looking for in a dj, then you should probably consider another service: 
1) Comedy. While we do dress appropriately for Halloween and Theme Parties (you can see some of those pictures on the homepage slideshow), we won't dress ourselves, you, your guests, or bridal party up in goofy costumes (i.e. Village People, Funky Chicken, Blues Brothers, whatever) and parade around the room at your reception! Ditto on the inflatable instruments, glow sticks, or any of the other 'novelty house' items...
I know some people like that kind of stuff, and that's fine, there's lots of dj's that offer that.
Not me... We'll have a great time without the cheese!
2) Singing. I would never subject you and your guests to my singing. I'm not talking about karaoke here... There are some dj's who actually 'sing tunes' at their event.
3) Christian, Country, and Latino music. These are three types of music that actually have their own Hot 100 lists. I have current selections available from all three (through my subscription service), and of course I know, and play the popular material... But, unlike just about all other formats of music, I don't listen to, or try to stay in tune with 'what's happening' with these formats. In other words, while I can play requests, I don't want to be put in a position to have to play a whole night of any of these types of music. There are Country dj's, there are Christian dj's, and there are Latino dj's... If you're having an event where the predominant theme will require a majority of music to be from any of these three formats, you should hire a dj who specializes in that respective format.
---
Q:
What if you're already booked for my date?
A: One of the best things about booking HAPPY HOUR DJ featuring DJ Eddie, is that you deal with DJ Eddie the whole way, up to, and through your reception. For clients who book us, that's great! For clients that want us for a date that we're already booked for, it's not. There are some instances where we may have an afternoon event booked, and can still do an evening event, but that's kind of rare. There are a select number of other professional dj services in our area that I am confident in, and who I know, will have your best interest at heart. I would be more than happy to refer you to these services at your request.
---
Q:
Do You Have References?
A: Yes!
DJ Eddie has successfully done functions for companies, such as: Coca-Cola Bottlers of Detroit, Thyssen Steel, Nissan, Hilton Troy, Hilton Auburn Hills, Embassy Suites Troy, Doubletree Romulus, Southfield Hilton, Remax Realty, Chubb Insurance, Liberty Park of America, Broder Brothers Sportswear Co., Progressive Insurance, Sharf Products, and many, many more.
Political Organizations, such as Macomb County Democrats.
Charitable organizations, such as The Shriners and CARE.
Public service functions, such as Sterling Heights Police, and Sterling Heights Firefighters.
And, various schools, caterers, and event coordinators.
And, of course, recent wedding clients are also available. Want unsolicited feedback from our client last weekend, client that booked us through the internet, from a referral, from a specific type of function....you ask for it, and I will provide you with names and numbers.
CHECK YOUR 2018 OR 2019 DATE HERE!
Q: Who is DJ Eddie?
A: Interesting question. Thought you might want to know...
I first started to love the job of DJ'ing, as a teenager, at Motor City Roller Rink (Warren, MI) in 1979. Then DJ'd at Macomb Skating Center (Roseville, MI) into the early 80's. This was a period of learning to read crowds, create excitement through music, along with adopting turntable tricks on vinyl. 12" extended remixes of popular songs were the things to get.
Funk, disco, early rap along with the oncoming talents of Prince & Michael were what was happening then!
Mixing skills!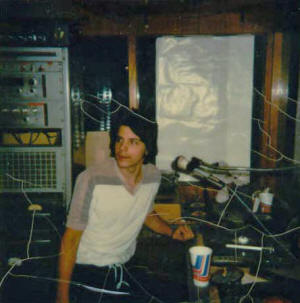 DJ Eddie 1979 - (Motor City Roller Rink - Warren, MI)
I started DJ'ing clubs and special events around 1986. Obviously, before the age of internet and social media, getting 'gigs required an agent.
My first agent was Kivana Productions (Madison Hgts., MI).
It was during this period, I realized just being a DJ spinning records wasn't going to cut it. I learned to leave my comfort zone and become an entertainer, communicating with my audience during performances.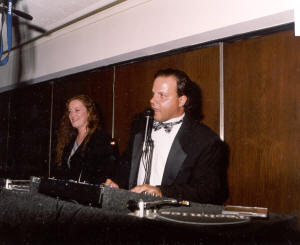 DJ Eddie and Margaret mid1990's (I'm going to guess this is Club Monte Carlo (Shelby Twp., MI)
The late 90's brought me to where I am now.
I started working with the area's best special event coordinators, and realized that my job actually entails having the same skills of a special event coordinator.
Being a great MC and DJ is fine. But, understanding how important designing (planning) and implementing the customer's vision of their special day is; well that's when my game improved 100% and pushed me to being a top level DJ in our area!
I sincerely do strive for perfection at every event, making sure everthing we planned prior to the event happens with a natural flow, just as envisioned.
It was also during this period that I begin the most amazing 'club' gig a DJ could ever want. I DJ'd at The Dugout Bar and Grill, Liberty Park of America softball mega-complex, in Sterling Hgts., MI.
I was house DJ there for about 15 years... Unheard of amount of time for a club gig. Great friends and great times!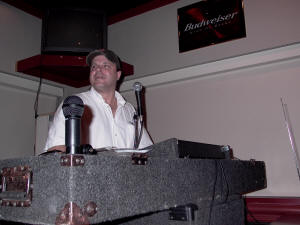 DJ Eddie 2003 (The Dugout - Liberty Park, Sterling Hgts., MI)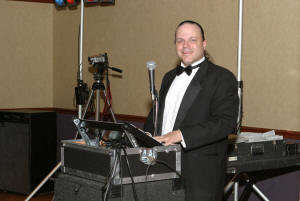 DJ Eddie 2005 (Tina's Country House - Macomb, MI)
The above picture (2005) is when I started the transition from physical media (CD's and Vinyl) to MP3.
To say this 'lightened the load' is a huge understatement.
Cargo trailer no longer needed!

DJ Eddie... Last days of disco? No, this was a 70's theme event. Complete with original 12" vinyl remix singles, CDs & MP3s. With full lighting (and mirror ball of course) a 2 & 1/2 hour set-up. (Andiamos - Sterling Hgts., MI)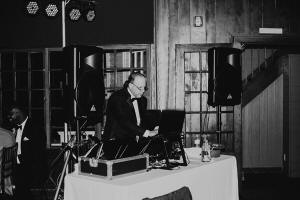 DJ Eddie 2018 (Waldenwoods - Hartland, MI)
In 2018/19, I'm looking forward to performing at more fabulous and exciting events. Nothing better than a full dance floor having a great time!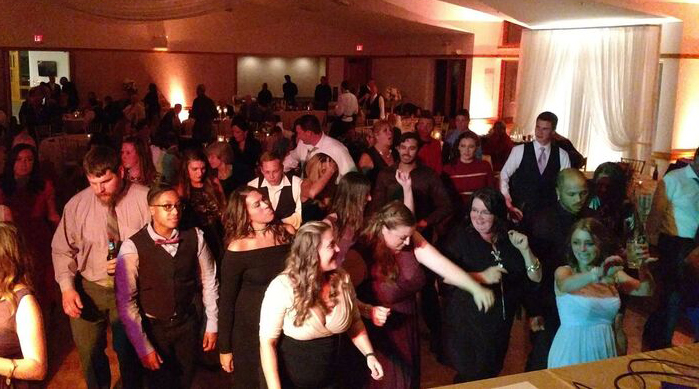 Now is as good a time as any to see if I'm available for your date.


Call: 8 1 0 - 3 4 3 - 0 1 9 4
or
Or Click Here To Email DJ Eddie